White and Dark Chocolate Pots
White and Dark Chocolate Pots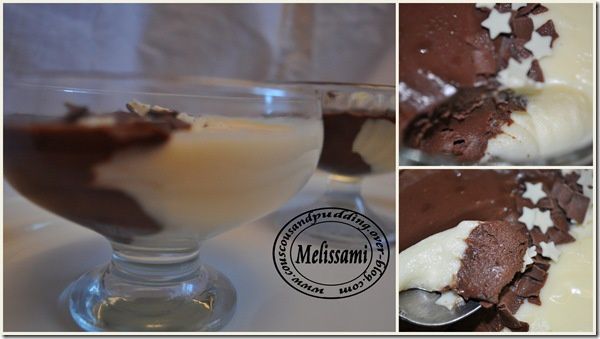 Hello,
You should know by now that I like easy and fast desserts lol. Despite not being a big fan of Dark Chocolate, I really liked this dessert. The sharpness and bitterness of the dark chocolate and the sweetness of the white one complement each other in this stunning dessert. However you must use good quality chocolate to have a delicious result.
xxxxx
Ingredients:
150g white chocolate
150g dark chocolate
400ml half fat crème fraiche
Method:
Break the dark chocolate into a heatproof bowl and pour over 200ml of the creme fraiche.
In an other bowl, do the same with the white chocolate.
Sit the bowls over a saucepan of simmering water and melt over a low heat until smooth.
Pour the mixture into 2 jugs.
With a jug in each hand pour both chocolates into ramekins at the same time.
Put in the fridge for a minimum of an hour
To serve, remove from the fridge for about 2 hrs.