Stuffed Vegetables -- Dolma --
Stuffed Vegetables -- Dolma --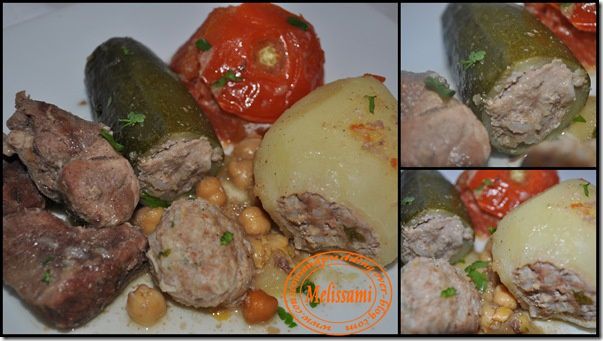 Hello
Today I share with you my last night's dinner, Dolma of courgettes, potatoes and tomatoes (which I love so I put 2 for me lol). Photos taken in a hurry because I was hungry and I did not want to share my ftour with my camera lol.

Ingredients

500g meat (mutton)
1 onion
A handful of chickpeas
Salt, black pepper, cinnamon
Parsley
2 tbsp of oil
4 courgettes
5 potatoes
2 tomatoes

Stuffing:

500g minced meat
1 onion
1 egg
2 tbsp rice
Parsley
Salt, black pepper, cinnamon

Method:

Sauté in oil, meat cuts into pieces and grated onion . Season.
Cover with water and cook for 30-40min.
Meanwhile, wash the vegetables, cut the courgettes into 2.
Scoop out the interior of the vegetables. Add a little salt.
Prepare the filling: Mix all the ingredients.
Stuff the vegetables with this mixture.
When the meat is almost cooked, arrange the vegetables in the sauce, sprinkle with parsley and cook over a low heat.