Angel Hair Delights -- Ktayef Fourrés aux Amandes --
Angel Hair Delights
-- Ktayef Fourrés aux Amandes --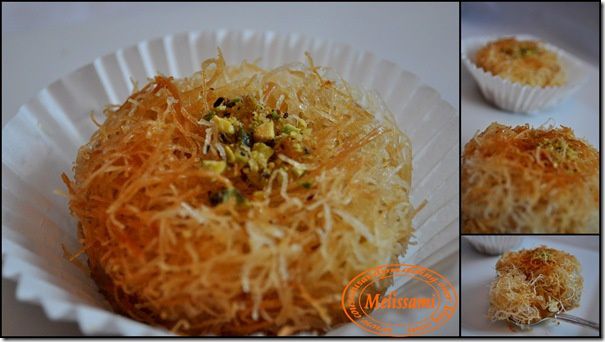 Hello
Here is a cake well appreciated with mint tea during Ramadan evenings. Filled with almonds and drizzled with syrup or honey, A True Delight.
.. Enjoy and Saha ftourkoum ..
xxx

Ingredients
Angel Hair (ktayef )
250g ground almonds
125g sugar
1 tsp cinnamon
1 / 2 glass of orange blossom
Butter or ghee

Syrup
1 / 2 l water
500g sugar
A tea glass of orange flower water

Method:

To prepare the syrup: put in a saucepan the sugar and water and cook for 20-25min, half way through add the orange flower water.
To prepare the filling: Mix the almonds, sugar, cinnamon and pour in the orange flower water. Tease apart the ktayef.
Organize small rings on a baking sheet. Divide ktayef in equal amounts.
Cover the bottom of the rings with ktayef.
Put over the mixture of almonds.
Cover with ktayef.
Drizzle with butter.
Brown in a moderate oven.
Drizzle with warm syrup or honey. Sprinkle with pistachios.
Cool before serving.