Chicken with Olives and Mushrooms -- Tajine Zitoune --
Chicken with Olives and Mushrooms
-- Tajine Zitoune --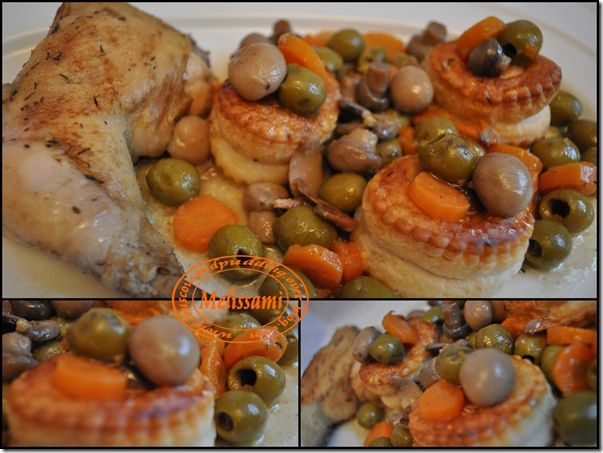 Hello,
Today I present to you this tajine of chicken with olives, mushrooms and carrots that I served to my family yesterday accompanied by vols au vent. An Algerian dish that I really like but unfortunately hubby does not like olives so I put equal quantities of olives and mushrooms, so that I have my olives and hubby has his mushrooms.. lol .... which leaves the carrots for kids ...
xxx

Ingredients
4 Pieces of Chicken
250g pitted olives
1 onion
2-3 carrots
250g mushrooms
Thyme
Laurel
Salt, black pepper
Saffron

Method:

Blanch olives 10min. Drain.
Sauté in a heavy pot the chicken with 3 tbsp of oil, grated onion and spices.
Add 1 l of water and boil.
Add carrots cut into slices and mushrooms.
Add olives.
Dissolve 1 tbsp of flour in a ladle of sauce and juice of 1 lemon, then pour over the cooked chicken.
Simmer for a few moments until the sauce becomes creamy.