Minced Meat Bouraks – In the Tefal Actifry --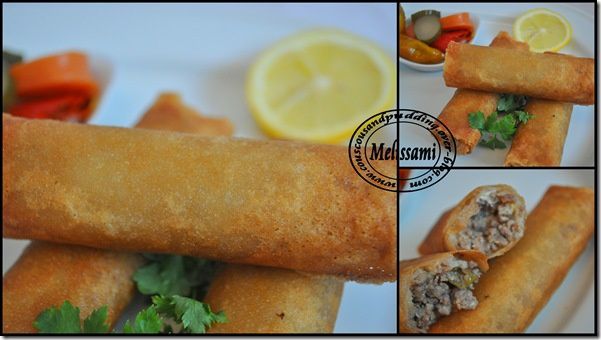 Hello
You should have guessed after the recipe for the Chorba, now comes the one for the bourakes. Well here it is; my recipe for minced meat Bourak to which I add green olives and cheese. A complete and very tasty Bourak although this year I was really disappointed by the Diouls I brought back from Algiers. If you do not like them fried, because of too much fat, and you do not like them baked in the oven as they are too dry, then try to cook them in the fryer TEFAL (Seb) Actifry (of course only if you already have one-lol), the result is superb but the only drawback is that it's a long process 20-25min.
Bizz

Ingredients

A dozen sheets of Dioul
500g minced meat
2 onions
Pitted green olives
5 eggs
Grated Cheese
1 bunch of parsley
1 tbsp of oil
Salt, black pepper, cinnamon

Method:

Prepare the stuffing: Sauté in oil, onion, minced meat and spices.
cook for 30 min at low heat.
Add olives.
Add the beaten eggs.
Cool, then add the cheese.
Separate the dioul sheets.
Put in each sheet a tbsp of the mixture, fold and roll into cigar.
Brown in a hot frying pan or in the oven or put in the fryer Tefal Actifry with 1 tablespoon of oil.
Drain and serve with lemon wedges.