Green Wheat Soup -- Chorba Frik --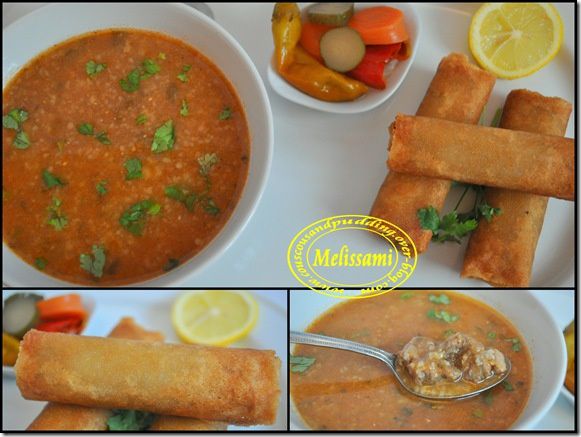 Hello
After el Lham lahlou here is another classic of Algerian cuisine, which we find on our tables for all the ceremonies and especially during the month of Ramadhan. A good starter after a long day of fasting. And of course with me when we say chorba it means Bourek as well. Oh yeahhhhhhhhh I do not like changing traditions during the month of Ramadhan. With me no Chorba without Bourek .. lol
Bizz

Ingredients

300g lamb
1 onion
500g fresh tomatoes
1 courgette
1 bunch coriander
1 tbsp mint
A handful of chickpeas
1 small stalk celery (optional)
4 tbsp of oil
Black pepper
Paprika
Cinnamon
1 tsp ras el hanout
1 glass frik
Salt

Method:
In a pot, put the meat cut into slices, grate over the onion, coriander, mint. Add salt, black pepper, cinnamon, celery and oil
Sauté for about 10 min.
Add a glass of water
Place over a couscousier. Put the tomatoes.
Crush the tomatoes while cooking.
Add 1l water and ras elhanout, paprika and simmer for 30min
Add cooked chickpeas and frik
Allow to cook for 20-25min.
Sprinkle with chopped coriander and dried mint.