Sweet Meat with Prunes -- El Lham Lahlou --
Sweet Meat with Prunes -- El Lham Lahlou --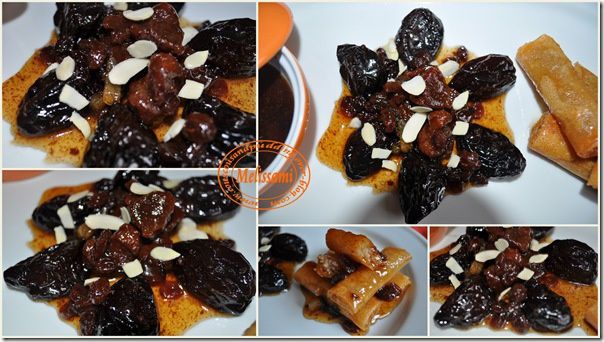 Hello
Today I share with you this sweet dish that I have prepared to welcome the holy month of Ramadan. This dish varies from one region to another. We can also add some dried apricots, apples, pears or quinces. But the result is always the same, a delicious dish. I served this dish with fingers of the bride, or Sbi3attes la3roussa or also known by almond cigars that I will post the recipe soon.
xxx
Ingredients

300g meat
500g prunes
100g raisins
500g sugar
A glass of orange flower water
2 tbsp ghee
1 tsp cinnamon

Method:

Soak the prunes and raisins in warm water for 30 minutes or until they swell.
In a pot, put the meat into pieces, sugar, ghee, orange blossom water and cinnamon.
Add half a litre of water and cook.
When the meat is half way cooked add the prunes and raisins. Bake for about 1 / 2 hr or until the sauce is moderately reduced.
Sprinkle with some almonds.