Blackberry Jam + Cake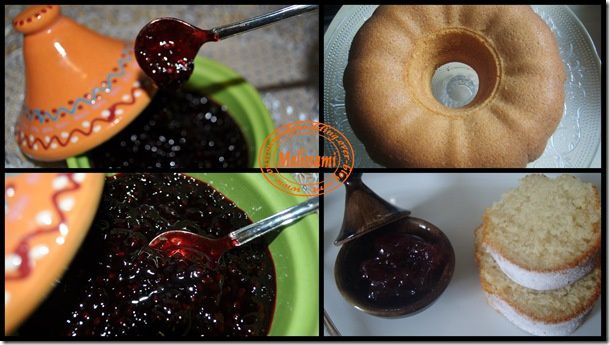 We've picked some Blackberries yesterday. We didn't go far as it was in my back garden..lol. The kids enjoyed it despite Sami didn't really understand that we needed only the black ones so I had to through back all the green and pink ones he had picked.lol. I haven't noticed that we picked so many until I was washing them to eat. So I've decided to make Jam. I looked in my cupboard and I found 1 Kg of jam sugar, this was great because the jam sugar contains added Pectin and I didn't have any lemon or apples. . Just to make it clear it's pectin that helps the jam to set, you can find it in apples or lemon juice. After making the jam, I thought no cake better than Mouskoutchou to enjoy it with..lol
For the jam, I used 1Kg of jam sugar for 1 Kg of Blackberries
The sugar and blackberries were mixed together in a large pan over a low heat, once the sugar had all melted the heat was gradually increased, with any pink coloured foam that appeared taken off the surface. When the mixture has reached a rolling boil that cannot be stirred away, it was left to boil for 4 minutes. After 4 minutes the pan was taken off the heat and the jam was spooned into sterile jars.
For the cake
Mix together 4 eggs, 1 cup of sugar and 1tbsp lemon zest.
Add 1 cup of oil, 1 cup milk, 1 1/2 cup flour and 1 tbsp baking powder.
Pour in a well greased cake tin.
Bake in a medium oven for 35-40min.