Algerian Pancakes ------ Baghrir
Algerian Pancakes ---------Baghrir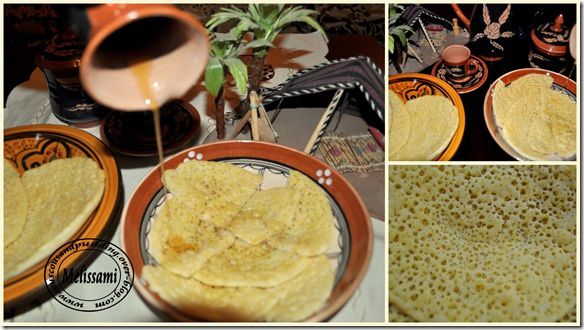 To keep in the Algerian mood, I present these Algerian Pancakes, Baghrir also known as the pancakes with a thousand holes. Eaten with a mixture of honey and butter it's a real delicacy at tea or coffee time. These pancakes are as easy to make as the French pancakes, however you'll need to leave the mixture to rest for about 1 hour, ideal time for me to have a little nap with the kids, I got up just before them to cook them and get them ready for my little hungry babies lol. My kids love them so I use pure honey so at least I can keep telling myself the damage to their teeth is outweighed by honey being good for their health lol. But the kids are just an excuse for me to make these delicious pancakes to enjoy myself.
Ingredients:
750g fine semolina
250g flour
A pinch of salt
1 / 2 tsp yeast
1 pack of baking powder
Water

Honey
Butter

Method:

Sift together the flour, semolina, and baking powder. Add the salt.
Add the yeast mixed in a little warm water.
Moisten the dough with a little warm water at the time until it becomes sufficiently liquid and smooth. Mix with an electric blender or whisk.
Cover and let to rise for about 1 hr.
When the batter has doubled in size and has lots of bubbles, Coat a tagine or a pancake pan with a little butter.
Add half a ladle of batter, spread evenly and cook over a low heat.
The pancake is cooked when it has totally dried and bubbled up.
Let to cool.
Prepare a syrup by mixing equal amount of butter and honey over a low heat until the butter melts.
In a dish, cut the pancake into quarters and drizzle with syrup.