Chicken Curry with Coconut
Chicken Curry with Coconut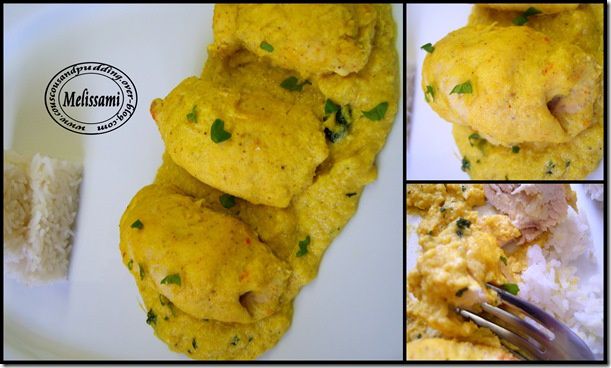 Hi,
Today I share with you this delicious chicken curry with coconut. It is time consuming to make but the taste is worth the effort..lol
xxx
Ingredients:
8 skinless chicken breast fillets
3 onions
5cm piece fresh root ginger
25g cashew nuts
50g creamed coconut, grated
2 tbsp butter
120ml natural yogurt
1/4 tsp chilli powder
1/2 tsp garam masala
2 garlic cloves
3tbsp chopped coriander
Grated rind and juice of 1 lemon
1/2 tsp saffron strands
2 tsp curry powder
Salt and pepper
Method:
Mix the chilli powder with half the garam masala, half the ginger and 1 garlic clove.
Rub in the chicken the spice mixture, cover and leave to marinate in the refrigerator for 1 hour.
Finely chop the onion and mix two thirds of it with half the remaining grated ginger and 2 tbsp chopped coriander. Add the grated lemon rind and 2 tbsp lemon juice. Season
Place the chicken breasts on a flat surface. Divide the onion mixture between them and roll the breasts up around the mixture to enclose the filling.
Place in a greased roasting tin and cook uncovered GM4 for 20-25min.
Meanwhile place the cashew nuts, saffron and coconut in a blender with 100ml water. Blend for 2-3min.
Heat the butter in a large shallow casserole. Add the remaining onion and sauté for 3-4min. Add the remaining garam masala, ginger, garlic, curry powder and the nut liquid. Cook for 2min before adding the yogurt.
Transfer the roasted chicken to the yogurt sauce.
Cover tightly with foil, then a lid. Simmer gently for 10min.
Garnish with the remaining chopped coriander.
Serve with rice.