Savoury Crackers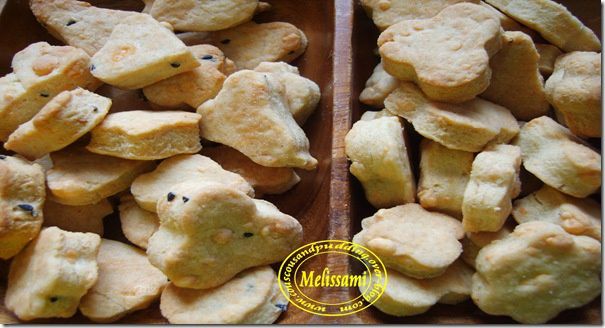 Ingredients:
350g flour
175g unsalted butter
115g cheddar cheese
1 egg
1tsp wholegrain mustard
Cumin seeds
Black seeds
Dill seeds
Curry Paste
Salt and Pepper
Method:
In a bowl, sift the flour, add the salt, pepper and the mustard.
Add the butter and rub until the mixture resembles breadcrumbs.
Add the grated cheese.
Add the beaten egg and mix until a soft dough forms.
Divide the dough into 4 pieces.
Add some cumin seeds into one piece, dill seeds into another, and curry paste and black seeds into the remaining pieces.
Chill the pieces in the fridge for 1 hour.
Roll out each piece and cut shapes using cutters.
Bake in a preheated oven 200C/GM6 for 8-10min, until slightly puffed and pale gold.