Little Baskets of Turkish Delight
Little Baskets of Turkish Delight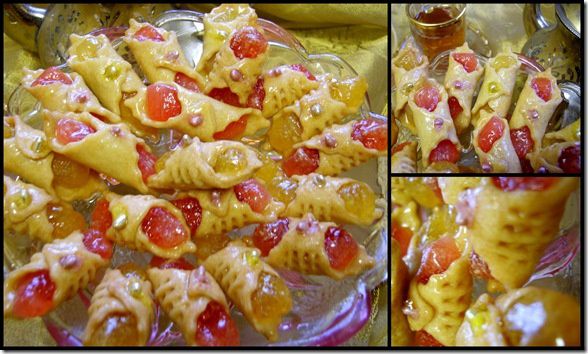 Hi,
Today I share with you this recipe for Algerian sweets, economic and easy to make. The use of different flavoured and coloured Turkish Delight gives these sweets a unique taste and appearance.
xxx

Ingredients

500g flour
250g margarine
1 tbsp sugar
1 egg
A pinch of salt
Water
1 box of Turkish Delight
Honey

Method:

In a bowl, combine flour, sugar, salt, egg and margarine.
Pour water gradually until a stiff dough forms.
Cover and let stand 30min.
Roll out the dough to 2mm thickness.
Cut into squares.
Place in centre of each piece, a piece of Turkish Delight.
Fold in two opposite sides of the dough on each other.
Bake for 20min.
You can eat them as they are or soak them in honey.