Coconut Chocolate Tarts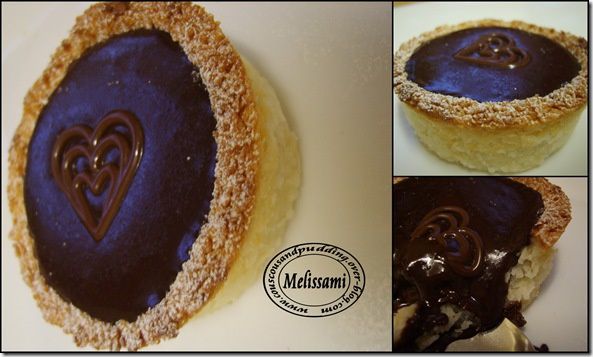 Hi,
For lovers of coconut like me, I suggest this delicious, easy and quick dessert. This is a very good combination of dark chocolate and coconut,,,
xxx
Ingredients:
100g sugar
180g desiccated coconut
2 egg whites
310ml double cream
300g dark chocolate
Method:
Mix the egg whites, sugar and coconut.
Press the coconut mixture into deep muffin tins, covering the base and sides to make a shell.
Bake in a preheated oven 180C for 10 min.
Make the filling: place the cream in a saucepan over a medium heat and heat until almost boiling.
Remove the cream from heat. add the chopped chocolate and stir until the chocolate melts.
Pour the chocolate filling into the coconut tart shells.
Place in the freezer for 5-8 min.(if you've got time, i didn't,,lol)