Aubergine, Mozzarella and Chicken Aumoniere
Aubergine, Mozzarella and Chicken Aumoniere
-Chicken Parmigiana-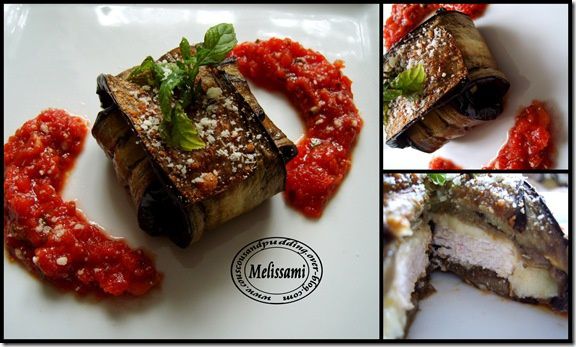 Ingredients:
Aubergines
Skinless chicken breast fillets
1 egg
Grated parmesan cheese
Mozzarella cheese
Tomato sauce
Method:
Slice the aubergines length-wise. Blanch in boiling salted water for 2 min.
Drain and refresh under cold water.
Brush each side of the aubergine slices with a little oil and brown under a hot grill for a few minutes on each side. allow to cool.
Dip the chicken fillets in the beaten egg, then in parmesan cheese.
Heat 2 tbsp oil in a pan and quickly brown the chicken on both sides.
Make the tomato sauce.
Spoon the tomato sauce into a shallow ovenproof dish.
Make the aumonieres as in the picture. Lay the aubergines to form a cross. Put in the center of the cross a slice of chicken and mozzarella and then close the aumonieres.
Put the aumonieres in the dish.
Bake in a preheated oven 190C for 35-40min.