Chicken, Cheese and Leek Parcel
Chicken, Cheese and Leek Parcel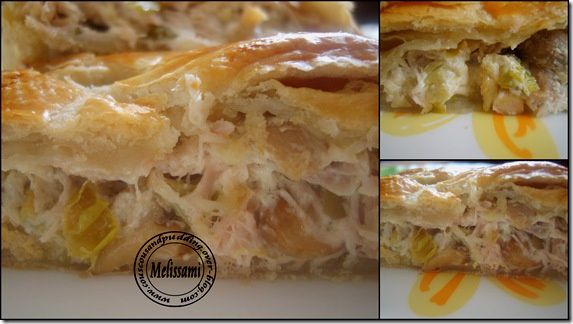 Ingredients:
1/2 roast chicken
3tbsp butter
2 large leeks
2 garlic gloves
1 cup button mushrooms
200g low fat cream cheese
Grated rind of 1 small lemon
3tbsp parsley
1 egg beaten
500g puff pastry
Salt and pepper to taste
Method:
Strip the meat from the chicken.
Melt the butter in a pan, add the leeks and garlic and cook for 10min.
Stir in the mushrooms and cook for 5 min.
Leave to cool.
Add the cream cheese, lemon rind, parsley and seasoning.
Stir in the chicken.
Roll out the pastry on a lightly floured surface.
Lift the pastry on to a baking sheet.
Spoon the filling on to the pastry.
Enclose the filling.
Seal the edges.
Glaze the top with beaten egg.
Bake in a preheated oven GM6/200C for 15min then lower the oven to GM5/190C and Bake for further 15 min.