Chocolate, Date and Almond Filo Coil (Mhancha)
Chocolate, Date and Almond Filo Coil (Mhancha)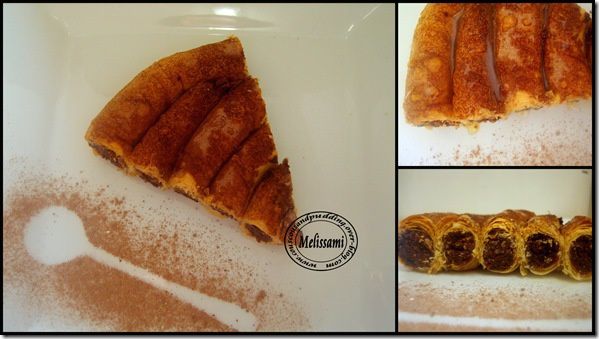 Ingredients:
Filo Pastry
For the filling
75g butter
115g dark chocolate
115g ground almonds
115g chopped dates
75g icing sugar
2tsp orange flower water
1/2tsp cinnamon
To finish
50g butter, melted
icing sugar, cocoa, cinnamon for dusting
Honey
Method:
For the filling
Melt the butter, with the chocolate in a heatproof bowl set over a pan of simmering water
Remove from the heat.
Stir in the remaining ingredients to make a thick paste.
Leave to cool.
Lay one sheet of filo on a flat surface.
Brush with meted butter, then lay a second sheet on top and brush with more butter.
Roll a handful of the chocolate and almond mixture into a long sausage shape and place along one long edge of the layered filo.
Roll up the pastry tightly around the filling to make a roll.
Fit the filo roll in a cake tin, so that it sits snugly against the outer edge. add more roll to the tin from the outside towards the centre.
Brush with the melted butter.
Bake in a preheated oven GM4/180C for 30-35min
Pour some honey on top.
Sprinkle with icing sugar, cocoa and cinnamon.