Algerian Sweets Stuffed with Turkish Halwa
Algerian Sweets Stuffed with Turkish Halwa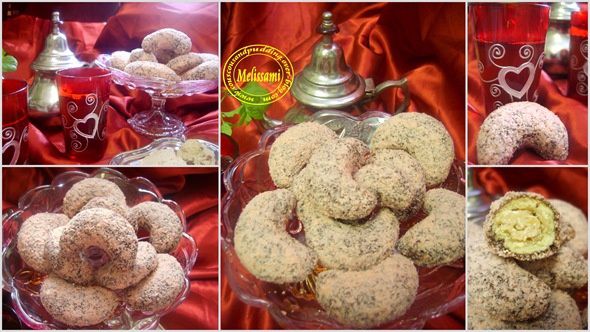 Hello
Today I share with you this recipe for economic Algerian sweets that melt in your mouth. Perfect with coffee or tea ...
Bizzz

For the dough
250g margarine softened
3 eggs
100g sugar
50 cornstarch
1 tsp baking powder
1 tsp vanilla sugar
Flour

For the stuffing
Turkish Halwa
Apricot Jam

To decorate
5 tbsp Cocoa
5 tbsp of icing sugar
1 / 2 glass of milk
2 packs of chopped wafers

Method:

In a bowl mix, margarine, eggs, sugar and vanilla sugar.
Add baking powder, cornstarch and flour gradually until the dough is firm.
Roll out the dough to a thickness of 2 mm and cut out circles with a round cookie cutter.
Put a teaspoon of jam mixture and Turkish halwa in the centre of each piece.
Fold the dough over itself and press well with your finger.
Arrange the cakes on a floured plate.
Bake for 15-20min.
Remove from oven and let cool.
In a saucepan, mix milk, cocoa and sugar. Stir until the mixture becomes slightly thick.
Remove from heat and let cool.
Dip the cakes in the chocolate mixture and then coat with chopped wafers.