Latticed Peaches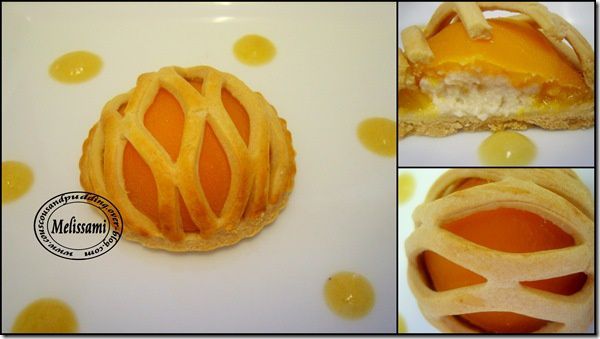 Hi
Today I share with you this elegant low fat desert, yes it certainly doesn't look low in fat, but it really is…lol
xxx
Ingredients:
For the pastry
115g plain flour
3tbsp butter
3tbsp fat free natural yogurt
2tbsp orange juice
For the filling
3 ripe peaches
3tbsp ground almonds
2tbsp fat free natural yogurt
rind of 1 orange
1/4 tsp almond essence
For the sauce
1 ripe peach
3 tbsp orange juice
Method:
Sift the flour into a bowl, rub in the butter evenly.
Stir in the yogurt and orange juice to bind the mixture into a firm dough.
Roll out half of the pastry thinly and use a biscuit cutter to stamp out rounds slightly larger than the circumference of the peaches.
Place on a baking sheet.
Skin the peaches and remove the stones.
Mix together the almonds, yogurt, orange rind and almond essence.
Spoon the mixture into the hollows of each peach half and place, cut side down, on to the pastry rounds.
Roll out the remaining pastry thinly and cut into strips or using a lattice cutter.
Arrange the top over the peaches to form a lattice, brushing with milk to secure firmly.
Chill in the fridge for 30min.
Bake in a preheated oven GM6/ 200C for 15-20min or until golden brown.
For the sauce puree the peach in a food processor with the orange juice until smooth.
Serve the the peaches hot with the peach sauce.