Mexican Chicken in Oriental Flat Bread
Mexican Chicken in Oriental flat Bread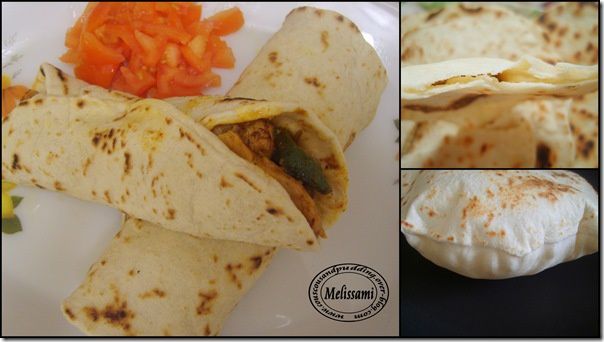 Hi,
I wanted to make chicken fajitas for the picnic but I didn't have all the ingredients to make the floury tortillas so I have made this Oriental flat bread and the result was very nice. The bread is very light, great to roll for a wrap and very easy to make with a bread machine.
xxxx
Ingredients: (1cup=250ml)
For the flat Bread:
1 cup water
1 tsp salt
1 tbsp olive oil
3 cups white bread flour
1 tsp yeast
For the Filling:
2 Chicken breasts
1 green pepper
1 yellow pepper
1 onion
1 tbsp Lemon Juice
1 tbsp. Worcestershire Sauce
1/2 tsp. Oregano
1/2 tsp. ground Cumin
1/2 tsp chilli powder
1 tsp paprika
Salt and pepper
2 tbsp olive oil
Method:
For the bread:
Place the ingredients in the baking pan of a bread machine in the order in which they are listed above. Set the programme to Dough
When the dough is ready, transfer it to a lightly floured surface
Divide the dough into walnut-sized pieces
Roll and stretch each ball of dough into a thin disc
Warm a large frying pan over a high heat.
Cook the discs for 1 to 2 min on each side.
For the Filling
slice the peppers and onion into small strips and cook in a large frying pan with the olive oil.
Add the chicken cut into small chunks.
Add the spices.
Cook until the chicken is tender.
Spoon the filling onto the middle of each warm flat bread and wrap them.