Leek and Onion pies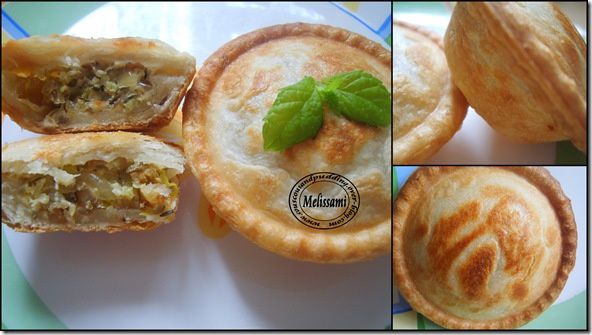 Hi,
These last few days have been very nice, at last it's spring over here, so I preferred going out with the kids rather than worrying about what to cook..lol I got back home yesterday very tired after chasing the kids around the play ground, I had some puff pastry left from my well known,,lol,,pear tartlets and 1 leek so I thought of making these tasty pies, I didn't have time to preheat the oven so I cooked them in my pie maker,,but you can cook them in the oven and the results will be the same.
Ingredients: for 4 mini pies
1 onion
1 leek
1tbsp butter
1tsp dried thyme
50g grated cheese
1egg
150ml single cream
salt and pepper to taste
Puff pastry
Method:
Melt the butter in a large pan, add the onion and thyme and cook for about 5min.
Add the sliced leeks and cook until they are soft and tender.
Transfer the mixture to a bowl.
Add the egg and single cream. Season.
Roll out the pastry on a lightly floured surface.
Cut 8 circles using a pastry cutter.
Either ease the bottom circle onto a tartlet tin or in a pie maker.
Divide the mixture evenly among the pastry cases.
Sprinkle with cheese.
Cover with another circle of pastry.
Cook in a preheated oven or in your pie maker until brown.