Poached Pear Tartlets with Chocolate Sauce
Poached Pear Tartlets with Chocolate Sauce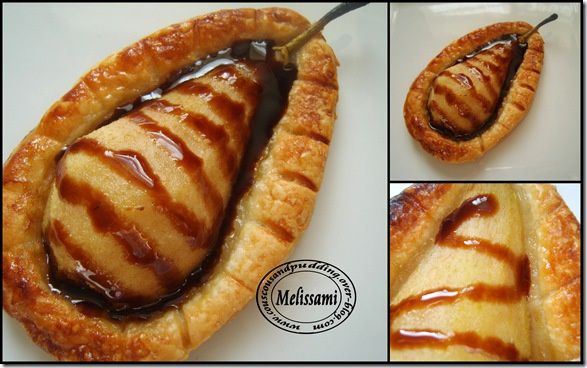 Hi,
I am back today with another easy and quick desert. Puff pastry topped with spicy poached pear and chocolate sauce.
Ingredients:
3 firm pears
450ml water
orange rind
1 vanilla pod
1 bay leaf
50g granulated sugar
350g puff pastry
1 tbsp butter
1 tbsp light brown sugar
25g walnuts
1 egg beaten
15g caster sugar
chocolate
Method:
Roll out the pastry on a lightly floured surface.
Cut out six pear shapes, slightly larger than the pear halves.
Place the pastry shapes on greased baking sheet and chill for 30 min.
Meanwhile, cut the pears in half and scoop out just the cores.
Put the water in a small pan with the orange rind, vanilla pod, bay leaf and sugar. bring to the boil.
Add the pears and more water to cover.
Cover and cook very gently for about 15 min.
In a bowl, mix together butter, sugar and walnuts. Spoon a little filling into each cavity of the pear.
Lightly brush the pastry pear shapes with a little beaten egg.
Put a pear half, filled side down, in the centre of each pastry shape.
Lightly sprinkle the pastries with a little caster sugar.
Bake in a preheated oven 200C/ GM6 for 12min or until golden brown.
Drizzle over some chocolate sauce.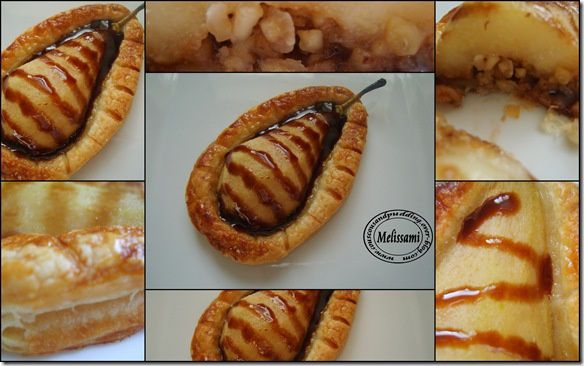 Yesterday was a very nice day here . Here are some pictures that I took when we went out for a walk me and the kids to the nearby (actually just outside my home) park