Apple and Cinnamon Mini Doughnuts in 10 min
Apple and Cinnamon Mini Doughnuts in 10 min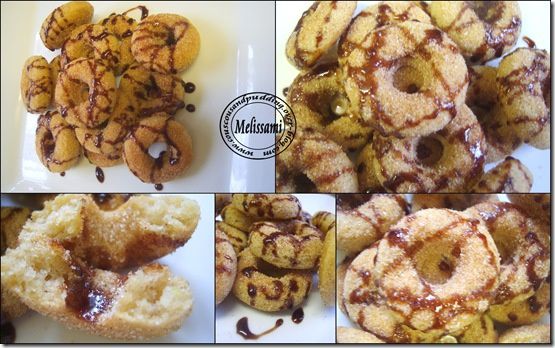 Hello
Here's what I made yesterday. I was very tired so I made these apple and cinnamon doughnuts . I love this recipe because it is very fast and easy and the result is very yummyyyyy. I baked some in the oven in just 8 minutes and some in the doughnuts maker in just 3-4 minutes. It took only 5 min for my kids to eat all of them .. lol

Ingredients: for 12 mini doughnuts

75g flour
1 / 2 tsp baking powder
1 / 4 tsp salt
55g caster sugar
60ml milk
1 egg beaten
1 tsp olive oil
1 / 2 tsp vanilla extract

1 large apple
1 tsp cinnamon

Method:

In a large bowl, sift flour, baking powder and salt. Add the sugar and mix.
In another bowl, whisk together milk, beaten egg, olive oil and vanilla extract. Add to the dry ingredients.
Add the grated apple to the mixture with 1 tsp of cinnamon. Mix well.
Brush the doughnuts pan or the doughnuts maker with a little oil.
Fill about 3 / 4 with the mixture.
If you are using the pan then bake in a preheated oven GM4 for 8 min.
If you are using a doughnuts maker then follow the machine instructions. They should cook in 3-4 minutes.
Sprinkle with some sugar and cinnamon.