Aubergine Cannelloni--Stuffed aubergine--
Aubergine Cannelloni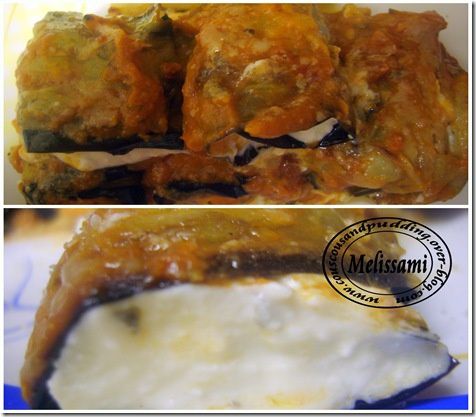 Ingredients:
4 Aubergines
450g Ricotta cheese
120g Parmesan cheese
50g Cream cheese
2 tbsp Basil
Tomato sauce
Olive oil
Method:
Cut the aubergines lengthways into thin slices.
Fry in a frying pan until light golden.
Drain the slices on absorbent kitchen paper.
Mix the cheeses together add basil. Season.
Lay the aubergine. Spoon the cheese mixture along.
Roll up the slices to enclose the filling.
Place a single layer in an ovenproof dish.
Spoon over the tomato sauce.
Sprinkle lightly with parmesan..
Bake in a preheated oven 190C/GM5 for 10-15 min.