Melly's Jammy Biscuits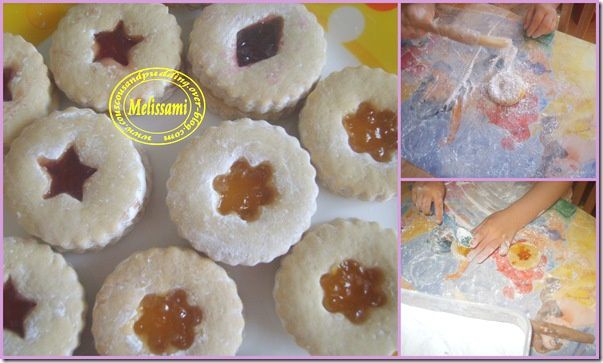 Hi,
These are my little daughter's jammy biscuits. She had a lot of fun with the jam and icing sugar which left me with hours of cleaning..lol
Ingredients:
250g butter
3 eggs
1/2 glass sugar
1 tsp vanilla sugar
Flour
Method:
Mix the butter and eggs.
Add the sugars.
Gradually add the flour until a soft dough forms.
Roll it on a floured surface.
Cut shapes using a biscuit cutter.
Cook in a preheated oven GM4 for 10-15 min.
Leave to cool.
Spread the jam thinly on the bottom piece and sandwich together.
Dust with icing sugar.