Fish Pie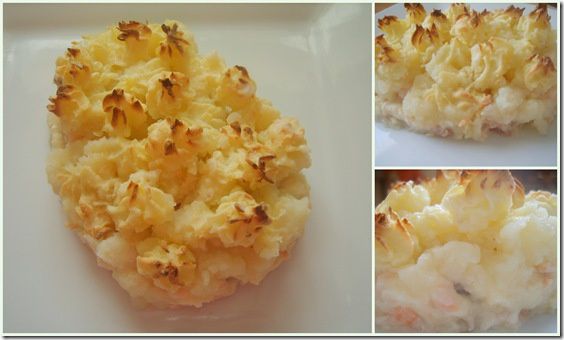 I have made this dish several times but i used to poach the fish first (cook it in a bit of milk) but according to Gordon Ramsay using the fish raw , will keep all the juices in the dish, meaning you don't lose any flavour at all and that's trueeeeeeeeeeeeee.
Ingredients:
Salmon
Prawns
Cod
Béchamel sauce
1/2 lemon
Fresh tarragon
1 tbsp parsley
6 large potatoes
A little milk and butter
2 egg yolks
Method:
Cook the potatoes in boiling salted water until tender
Mush with a little milk and butter until smooth.
Stir in the egg yolks.
Make the béchamel sauce.
Cut the fish into bite-sized pieces. season
Add the chopped fish to the béchamel sauce, add the lemon juice, the chopped tarragon and parsley.
Pour into an oven proof dish.
Either pipe the mash over or spoon it.
Cook in a preheated oven 180C/GM4 for 40 minutes, or until cooked through, crispy and golden on top.