Naans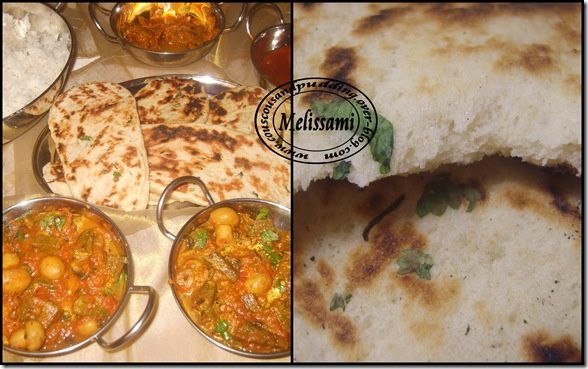 Here is the recipe of the coriander Nanns bread that i have served with my Okra curry.
Ingredients: (1 cup=250ml)
1 cup water
2 tbsp dried skimmed milk
1 tbsp honey
1 tsp ground cumin
1 tsp salt
3 cups white bread flour
1 tsp yeast
To finish
3 tbsp fresh coriander, chopped
1 tbsp melted butter
Salt
Black pepper
Methode:
Place the first seven ingredients in the baking pan of a bread machine and set the programme to Dough
When the beeps sounds. this is usually before the last 5 min of the cycle. Add the other ingredients.
When the cycle has been completed, remove the dough. knead it briefly and divide it into 9 equal sized pieces
Shape each piece into a large, flat, teardrop shape.
Leave the pieces to rest for 10 min.
Cook the naans for 4 to 5 min in a heavy based frying pan over a moderately high heat.
Enjoy with any Indian food.