Mushroom & Okra Curry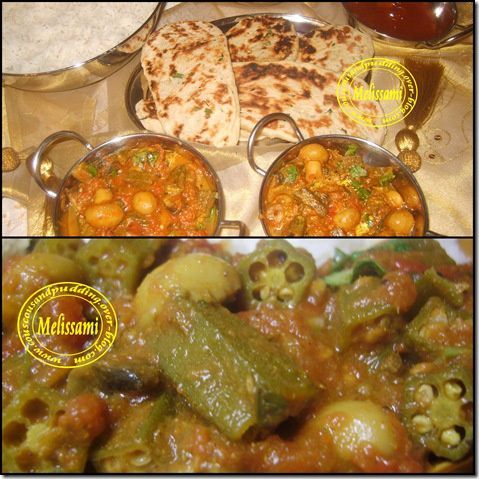 I have served this simple but delicious curry with cooked basmati rice, mango relish, lime pickle, Papadom and my home made Nan bread (I'll publish the recipe tomorrow). Don't be put off buy this long list of spices, mixing them yourself gives an infinitely better flavour than commercially prepared curry powder.
Ingredients:
2.5 cm fresh root ginger
4 garlic cloves
2 fresh chillies, seeded
175 ml water
1 tsp sunflower oil
1 tsp coriander seeds
1 tsp cumin seeds
1 tsp ground cumin
2 green cardamom pods
1 tsp turmeric
1 tsp fenugreek
1 cinnamon stick
400g chopped tomatoes
450g mushrooms
225g Okra
Salt and pepper
2tbsp fresh coriander
Method:
Blend the garlic, ginger, chillies and 3tbsp of the water until smooth.
Heat the oil in a large pan. add the coriander seeds and cumin seeds and let them sizzle for few seconds
Add the ground cumin, cardamom, turmeric, fenugreek and cinnamon. cook for 1 min
Add the paste from the blender, the tomatoes, the remaining water, the mushrooms and okra.Season.
Stir and bring to the boil.
Lower the heat, cover and simmer for 5 min
Uncover and cook for 15-20 min or until the okra is tender.
Stir in the fresh coriander and serve.