Leek and Cheese Soufflé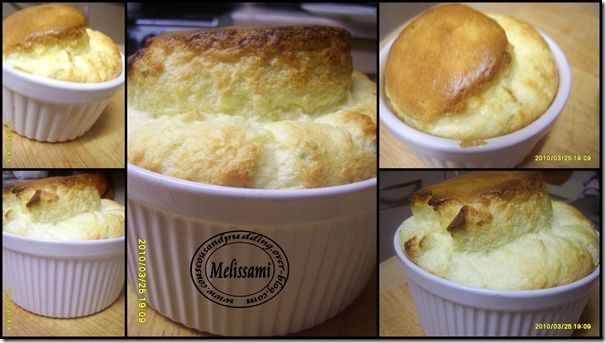 This is a superb light dish, perfect for a dinner party. Everything except whisking the egg whites can be done in advance so you can finish making the soufflé when your guests arrive. If you want your soufflé to rise more then fill the soufflé dishes to the top, something that i didn't do..lol, but my soufflé did rise a lot as you can see from the pictures even though these pictures where taking a while after taken the soufflé out of the oven.
Ingredients:
2 leeks
300 ml milk maybe more
4 eggs
25g plain flour
75g grated cheese
3tbsp butter
1tbsp sunflower oil
Salt and pepper to taste
Method:
Slice the leeks thinly.
Fry the leeks gently with the oil and 1 tbsp of the butter until soft.
Stir in the milk and bring to the boil.
Cover, then simmer for 5 min.
Drain, keeping the liquid.
Put the liquid into a measuring jug, add extra milk to make it up to 300ml.
Melt 2 tbsp butter in a pan, stir in the flour, gradually add the milk, whisking constantly until the mixture boils and thickens.
Let it to cool slightly.
Beat in the egg yolks, cheese and the cooked leeks. Season.
Whisk the egg whites until stiff.
Using a metal spoon, fold them into the leek mixture.
Pour into greased soufflé dishes.
Bake in a preheated oven 180C/GM4, until golden and puffy.
Serve immediately.