Flowers Baskets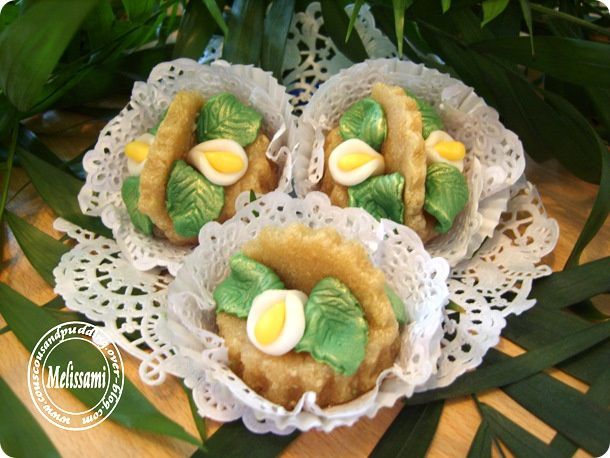 Here is another unbaked cake recipe , very easy and quick to make. As well as the previous recipes this is not done properly because i was very busy (yeahh with 2 toddlers, you are always busy..lol) but i need to mention that this is the first time in my life I'm doing these decoration with the almond and sugar paste. I've never done it before and i am loving it.
The texture of these cakes should be slightly different from those on the photos because I had not enough fondant .. lol
Ingredients
1 cup fondant
1 cup of ground almonds
Orange Blossom Water
The decoration
Almond Paste
Sugar paste
Food coloring
Method:
In a bowl, combine the almonds and the fondant, mix and add the orange blossom water until you get a stiff dough.
Roll half the dough to a 1cm thick then cut out rounds Using a cookie cutter.
Roll out the remaining dough to 3 mm thick and cut circles with the same cutter.
Put the 3mm circle above the 1 cm circle and lift it's half.
Decorate the cakes with leaves and flowers of almond or sugar paste.