Fig and Almond Rolls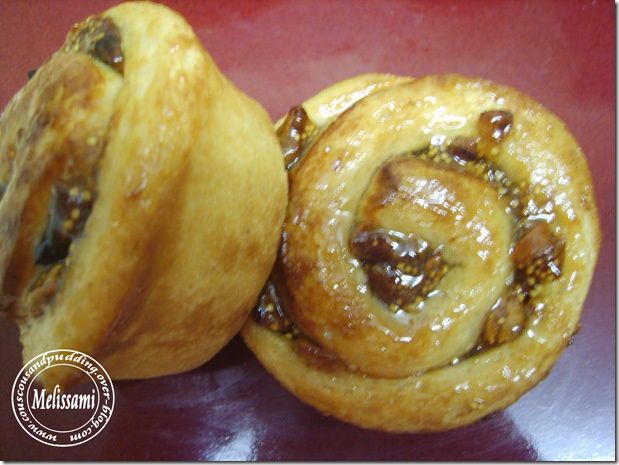 Ingredients:(1 cup=250ml)
1 egg, beaten
3/4 cup warm milk
1 tbsp melted butter
1 tsp caster sugar
1/2 tsp salt
3 cups (440g) white bread flour
1/2 cup ground almond
1 tsp yeast
To finish
200g dried, ready to eat figs, roughly chopped
Zest of 1 orange
1 tbsp honey
2 tbsp butter
1 tbsp sugar
Method:
Whisk together the egg and milk, then put them in a bread machine pan. Add the rest of the ingredients in the order mentioned above. Set cycle to DOUGH.
In a mixing bowl, combine the figs, orange zest and honey.
When the dough is ready, transfer it to a floured surface and knead it briefly.
Roll out the dough into an oblong (30.5*23cm)
Sprinkle the fig mixture over the dough.
Roll up the dough.
Cut the dough into 12 slices and then place each slice in a well greased muffin tin.
Cover with an oiled Clingfilm.
Leave to prove in a warm place until it doubles in size. (I didn't let mine to double)
In a small pan, gently heat the butter and sugar.
Lightly brush the top of each roll with the butter and sugar glaze.
Cook the rolls in a preheated oven 220C/GM7 for 15 to 20 minutes or until they are golden.