Chicken Terrine
This is my first own Chicken terrine without gelatine..I am happy with the results despite a couple of mistakes. First of all I used creamed mushrooms which made the terrine look a bit soggy in the middle,,lol…but that's all that I found in my cupboard lol ,,secondly this terrine is suppose to cool in the fridge for several hours or overnight but as I made it for last night's dinner it had only 1 hour in the fridge. But overall it was delicious…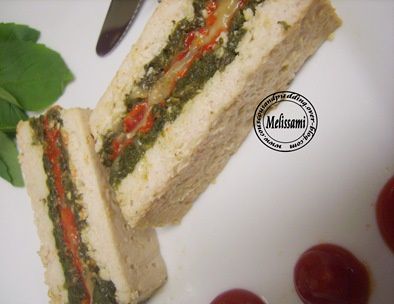 Ingredients
500g boneless chicken breast
1 egg
1 tin. sliced mushrooms
1 teaspoon chopped parsley
4 bell Peppers
400g Spinach
Parsley
Salt and pepper to taste
Method
In a small bowl, mix the egg and minced chicken, parsley and season.
Sauté mushrooms in butter until tender.
Roast the peppers.
Steam the spinach until cooked.
using a loaf or terrine pan put the chicken mixture, then a layer of spinach then the mushrooms and top up with the peppers.
Repeat the layers. Finish with a layer of chicken
Cover with parchment paper or foil.
Place a heavy weight on top of the terrine while baking to compress the layers.
Place the loaf pan in a larger pan and pour in water to make a water bath. Bake for 1 hour 20 minutes in a preheated oven GM5
Let the terrine cool completely at room temperature, then refrigerate in pan for several hours or overnight.
To serve, carefully turn the terrine out of the pan onto a platter and slice.