Chicken Mushrooms Crepes
Today is pancakes day, but as I have been eating lots of sweets recently, I thought I would have savory pancakes instead..lol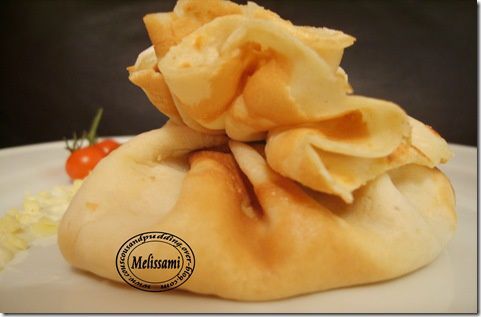 Ingredients:
Pancakes:
500 ml milk
3 eggs
250gr sifted flour
1/2 tsp salt
1tbsp oil
Filling:
Cooked chicken breast
1 tin chopped mushrooms
1 onion
2 tbsp butter
Salt and pepper
Béchamel sauce
Grated cheese
METHOD
Pancakes
Mix together the flour and salt in a large bowl.
Combine the eggs and milk in a bowl, then gradually mix into the flour with a
whisk.
Continue to whisk until a smooth batter forms.
Leave the mixture to rest for 30 minutes.
Add the oil and mix.
Rub your crêpe pan or frying-pan with a little butter.
Ladle batter on pan and swirl around until completely coated and spreads out
evenly.
Cook for a minute or two on each side or until lightly browned.
Use a knife or palette knife to flip crepes.
Stack on a plate until ready to use.
The filling
Sauté the mushrooms together with the chopped onion in butter. Season.

Dice the chicken in small cubes and add it to the mushrooms

Mix all with the béchamel sauce

Fill the pancakes with this mixture
If you intend to bake the filled crepes in the oven then use only 3/4 of the béchamel sauce . Place the filled pancakes on a oven proof dish and pour the remaining béchamel sauce over them then sprinkle with some grated cheese.