Semolina Cake with Raisins
Semolina Cake with Raisins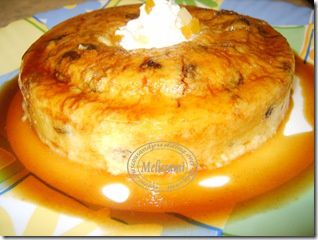 Ingredients
200gr fine semolina
1l milk
200gr sugar
1tsp vanilla essence
4 eggs
100gr Raisins (soak in water for 20min)
Caramel (Optional)
Method
In a saucepan, mix the milk, vanilla and sugar. Bring to boil.

Incorporate semolina slowly, stirring all the time to prevent it from
sticking
Continue to stir for 15-20 minutes and turn off the heat.
Add the 4 egg yolks and raisins.
Beat the egg white and add gently to the mixture.

Place in a greased tin (the shape you want).
Cook in a preheated oven at 180°C/GM4 for 30 min.

Let cool about 1 hour then refrigerate for 2 hours minimum.
Decorate with some caramel.