Chocolate Biscuits -- Bourbons --
Chocolate Biscuits with Strawberry Filling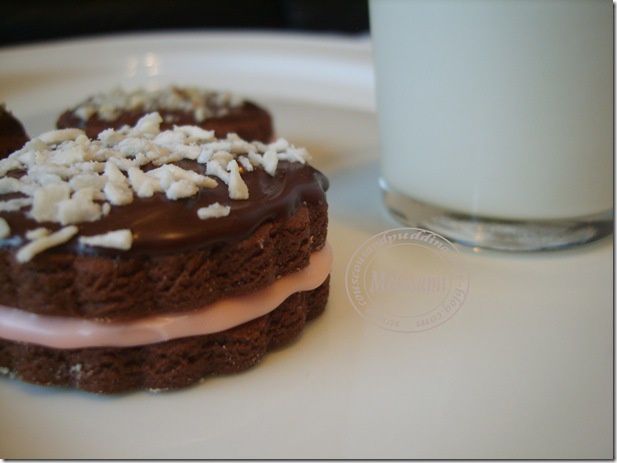 Hello,
Today I share with you these delicious biscuits with strawberry filling. The taste and texture of these biscuits are the same as bourbons biscuits. Ideal biscuit with a glass of milk..

XXX
Ingredients:
Biscuits
290g plain flour
50g cocoa powder
180g soft unsalted butter
170g icing sugar
1tsp baking powder
2 tbsp milk
Filling
50g butter
250g icing sugar, sieved
1 tsp strawberry essence
Topping
Melted chocolate
Coconut
Method
1- Cream butter and sugar together well. add the milk.
2- Sift the flour, cocoa and baking powder and work into the
creamed mixture to form a soft dough.
3- Chill in the fridge for 30 min
4- On a lightly floured surface, roll out dough to 5 mm thickness and cut into
desired shapes using biscuit cutters.
5- Place biscuits onto a baking tray.
6- Cook in a preheated oven 180C /GM4 for 20-25 min or until cooked.
7- Remove from the oven and place on a wire rack to cool.
8- Prepare Filling: sift the icing sugar.
9- Beat the butter until soft, add the sugar and strawberry essence.
Mix until well blended and creamy.
10- Spread on the biscuit and sandwich together.
11- Decorate with melted chocolate and sprinkle with nuts.