Valentine's Cheesecake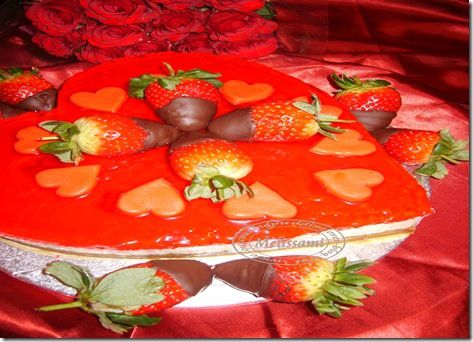 Valentine's Day is here and I wanted to make something special. This no-bake cheesecake is egg free and easy to make. However it needs to be chilled for 2-3 hours or longer for better results. This is an adaptable cheesecake recipe, here I have used white chocolate and strawberry jelly but you could make it as a lemon cheesecake for example, where instead of the white or plain or dark chocolate you use some lemon juice and lemon zest to taste.
Ingredients:
The base
8-10 Crushed digestive biscuits

50g Melted butter

2 tbsp runny honey or golden syrup
The cream cheese
200-400g White chocolate (to taste)

200g Soft cream cheese

250g Mascarpone cream cheese

284ml Double cream
Icing sugar to taste
Topping
Strawberry jelly (Optional)
Strawberries (Optional)
Method:
1. Melt the butter in a saucepan with the honey, then stir in the biscuits crumbs and mix well. Tip the mixture into a greased baking tin and press down firmly. Chill in the fridge for 30 minutes or more.


2. Mix together the cream cheese and mascarpone.


3. Melt the chocolate in a Bain Marie and mix lightly together with the cheese mixture.

4- Whisk the cream in a second bowl until it forms soft swirls, then fold into the cheese mixture and beat gently until fully incorporated. Add the icing sugar to taste.

5. Pour mixture on top of biscuit base and spread the surface level. Chill in the fridge for at least two hours.
6- Prepare the strawberry jelly according to the package instructions and pour it slowly on to the cheesecake. Refrigerate until the jelly is set or overnight until firm.

Tips:
You can serve the cheesecake with fruit compote drizzled over the top.
Fruit compote:
warm 300gr of frozen fruits in a pan with 2 tbsp water and 2 tbsp caster sugar for 3-4 min until defrosted. Blend 2 tsp cornflour with a little extra water, add to the pain, bring to the boil, stirring, and cook for 1 min until the sauce has thickened. leave to cool.