White Bread Baps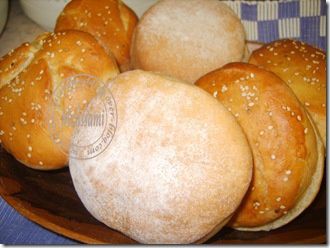 Ingredients: (1cup=250ml)
1/2 cup water
1/2 cup milk, warmed
2 tbsp butter, melted and cooled
1 tsp caster sugar
1/2 tsp salt
3 cups white-bread flour
1/2 tsp fast action yeast
Method:
1-Place the ingredients in the baking pan of a bread machine in the order in which they are listed above. Set the Dough cycle and press start.

2-Remove the risen dough from the machine and transfer it to a lightly floured surface and knead it briefly. Divide it into 8 equal pieces and form into rounds.

3-Dust the top of each round with some flour for soft the floury baps then cover with a sheet of Clingfilm and leave it to rise (about 40 min)

4-When the baps have almost doubled in size, remove the Clingfilm and sieve a little more flour over each of the floury ones and brush some milk lightly onto the other baps then sprinkle with sesame seeds.

5-Bake the baps in a preheated oven to 200ºC /GM6 for 15 min, or until they are golden at the edges and have cooked through.